Chocolate Chips Cookies are my kryptonite.
Sol Orwell actually started the Chocolate Chip Cookie Off as an event for friends.  It all started with Le Gourmand's chocolate chip cookie which he touted as the best chocolate chip cookie ever, then his friend's started to chime in with other cookies they thought were better.   So last year, they decided to have the first annual chocolate chip cookie off amongst friends and 17 pros + home bakers attended.   He decided to do it again this year and the event exploded.  35 different chocolate chip cookies were entered by all and a good number of those entries form the 25 pros from bakeries all over Toronto.   Some that were outside of Toronto mailed their entries in to be judged!
List of pros:
Rocco from Pizzeria Libretto
Nick from Porchetta & Co
Vanessa from The Rolling Pin
Kaya from Death in Venice
Alex Tso from Dundas Park Kitchen
Jen from Pretty Sweet
Shai from Sweet&Shy
Elle from The Red Bench
Monica from ShopBake
Jeff from School
Eden from New Moon Bakery
Rose of Rosie's Eatery
Johanna of Good & Best Cookie Company
Clair from Life is Sweet
Lisa from La Dolci
Christinn of Millie Desserts
Milton of Le Gourmand
Olivia of The Food Dudes
Alan from CookieDelivery.ca
Davis from Dufflet
Ant from Detroit Cookies
Cate from Cate's Cooke Kitchen
Franco from Tre Mari Bakery
Montemartre Bakery
Bobbette & Belle
Phipps Bakery
The large room was filled with endless tables of different cookies.    There were spirits, huge vats of milk, and delicious hot chocolate was donated by Soma Chocolatemaker.     Let's not forget the main event, ALL YOU CAN EAT CHOCOLATE CHIP COOKIES !
Now to say I tasted a lot of cookies that night is an understatement.   I tasted a ridiculous amount of cookies that night, and we all nibbled on cookie entries and knocked down milk shots for hours and then voted for our favourite chocolate chip cookie of 2017.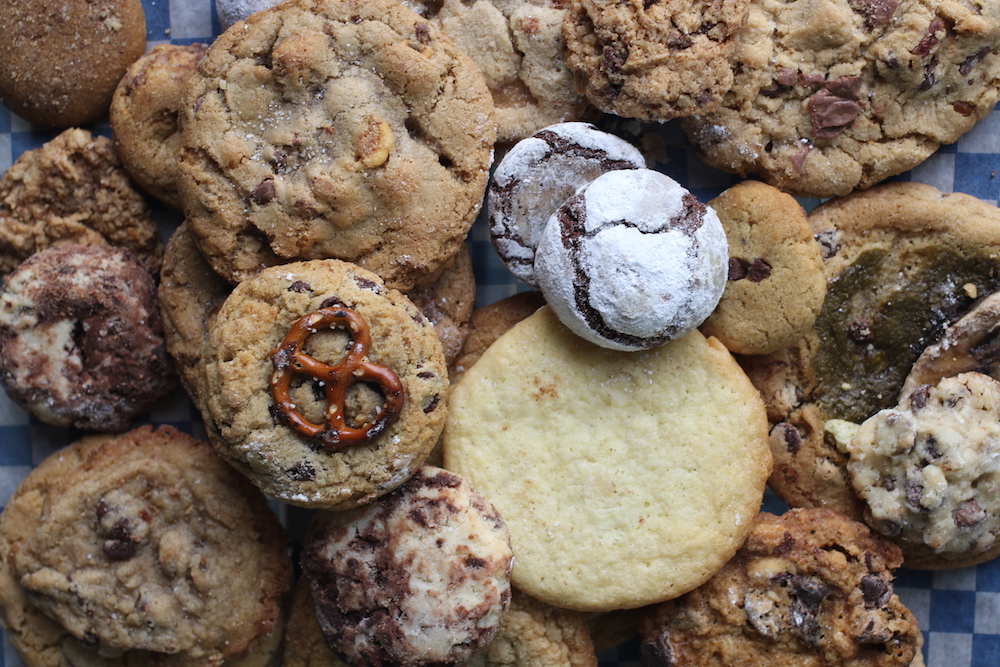 The people voted and the results were:
Most Interesting:   Salted Caramel and Corn Nut Milk Chocolate Chip Cookies by Nick Auf Der Mauer from Porchetta & Co.
3rd place:   Black Bot Cookies by Teiko Reindorf
2nd place:   Salted Caramel and Corn Nut Milk Chocolate Chip Cookies by Nick Auf Der Mauer from Porchetta & Co.
1st place:   Miltons's Chocolate Chip Cookies from Le Gourmand.
My personal favourite was Nick's Salted Caramel and Corn Nut Milk Chocolate Chip Cookies.  I'm a big fan a variety of textures and tastes, salty & sweet, crunchy & soft, this was everything I wanted in a cookie and more.    Don't to get me wrong, I can see how Le Gourmand's Chocolate Chip cookie won…1 inch thick and 4-5 inches in diameter, it's a chocolate chunk cookie dough lover's sexiest dream.
Entry to this amazing event was $15 a person and $2500 of proceeds went to the United Way while the rest was donated to a Women's Shelter.  I hope they make this a yearly tradition, or quarterly.   I'm convinced cookies is the way to happiness and world peace.
—
Date:  January 14, 2017
Location: Argonaut Rowing Club (1225 Lakeshore Blvd), Toronto, Ontario